4 Ways to Use Your Custom Learner Dashboard in SmarterU LMS
4 Ways to Use Your Custom Learner Dashboard in SmarterU LMS
---
Share feedback
Thanks for sharing your feedback!
Are you an HR professional looking to take employee engagement to the next level? Or an LMS administrator searching for new ways to present your training to learners and help them find what they need? If so, we invite you to check out our latest video on 4 Ways to Use Your Custom Learner Dashboard in SmarterU.
This video shows you how to unlock the power of custom dashboard pages to create a more comprehensive and intuitive learner experience.
Want SmarterNews delivered to your inbox? Subscribe today!


Four Ways to Use Your Custom Learner Dashboard Pages
In this video, Erin, a Senior Administrative Analyst at SmarterU, shares four ways that you can use custom pages to:
further integrate your brand identity into your training,
increase learner engagement, and
create an experience tailored to your learners' specific needs.
Guide Your Learners with To-Do Lists
Want to make it easy for learners to dive right in? Give them everything they need in one spot. By highlighting the training tasks on the critical learning path, learners can focus their time and energy on what they need to do instead of navigating the LMS.
Increase Learner Engagement with Leaderboards
Tap into your learners' competitive side and drive engagement using a leaderboard. Generate friendly competition by showing learners where they rank amongst their peers and allow them to use their points to win prizes.
Share Team-Vetted Resources
Supplement your training with customized resources like documents, downloadable forms, and quick reference guides. The easier you make it for learners to find and access company-approved resources, the less likely they will turn to random pages they find on Google.
Provide Everything on One Page
Help new hires hit the ground running by providing everything they need on one page. A single, at-a-glance view clarifies what they need to do to complete their onboarding — something that most people want to do quickly and efficiently.
How to Build Custom Learner Dashboard Pages
Using our Custom Page Builder, you can quickly create a custom page using SmarterU's pre-built widgets. Simply drag, drop, resize, and customize each widget, then hit save!
For example, the following custom page consists of several widgets:
A text widget with instructions
An image widget with the company's banner
An enrollment status widget with a summary of the learner's enrollments
A knowledge base widget with resources
A learning plan widget with a To Do list
A learning plan widget with a structured view of the Safety Training for Installers learning plan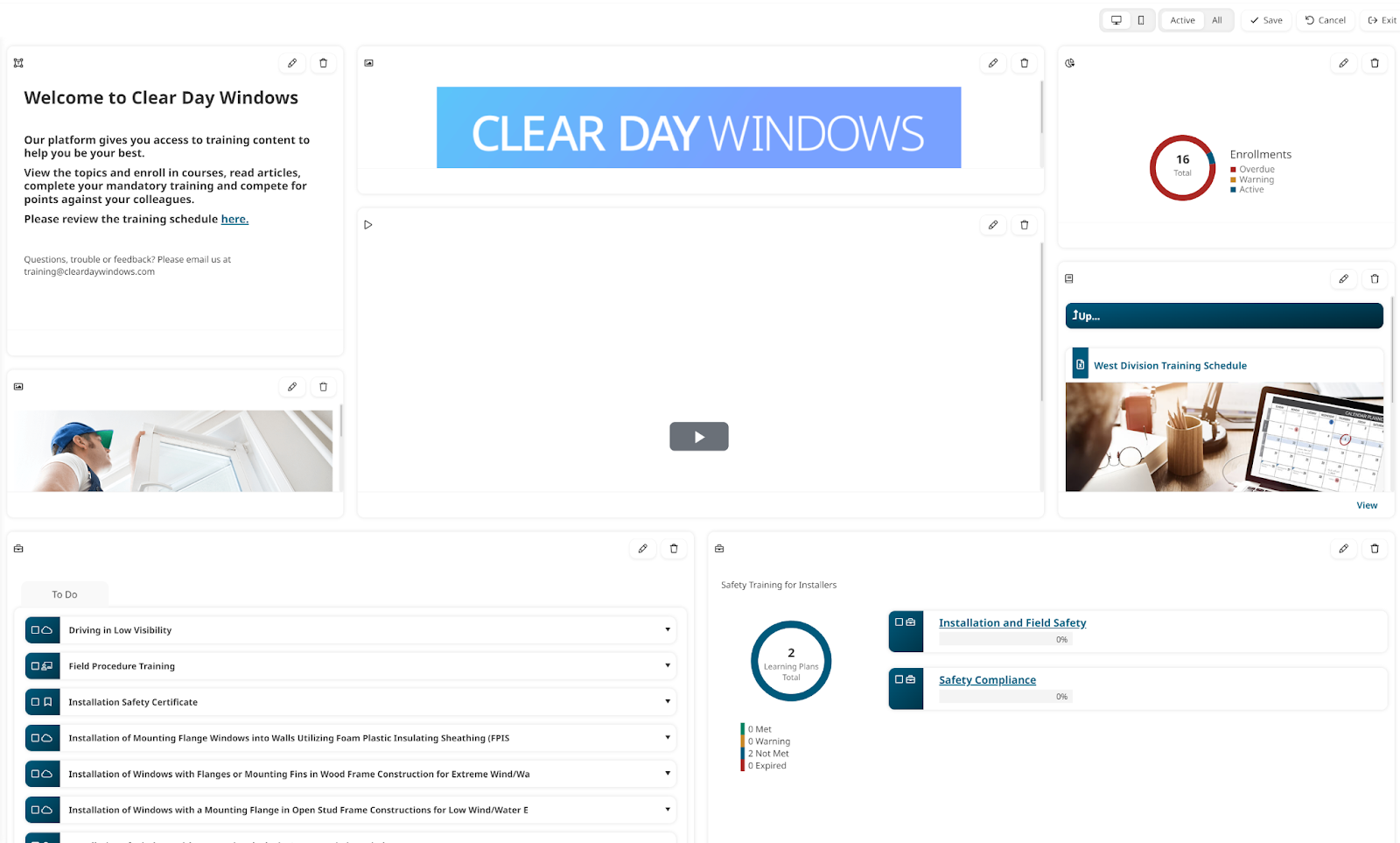 This custom page is perfect for onboarding. It includes branding, a clear overview of what learners need to do, and easy access to courses and resources — all in one place!
Ready to Start Creating Your Own Custom Learner Dashboard Pages?
Then check out our video on 4 Ways to Use Your Custom Learner Dashboard Pages in SmarterU today!
Questions? Contact us at success@neovation.com.
---
Was this article helpful?
---
---