The Credits Dashboard enables you to view, add, and remove credit entries.

Who Has Access
Administrators and owners have access to the Credits Dashboard.
Viewing the Credits Dashboard
To view the Credits Dashboard:
From the Admin menu, select Account Admin.
Select Credits.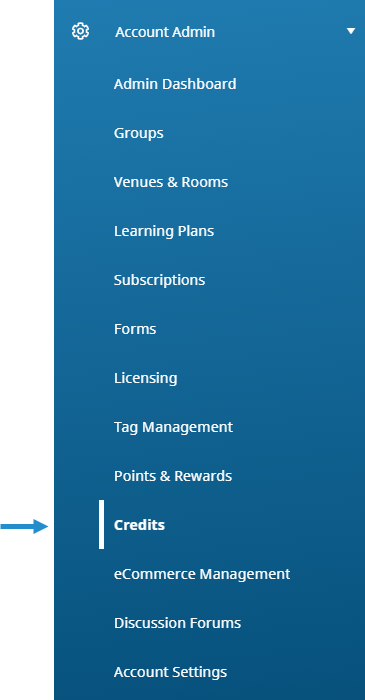 The Credits Dashboard displays. By default, the Credit Courses (by group) list option is selected.
The right pane displays a grid containing the groups, courses, and subscriptions which require credits.

Columns in the Grid
The columns in the grid are described below.
| Column | Description |
| --- | --- |
| Group | The name of the group that has a credit, course or subscription. |
| Course/Subscription | The name of the course or subscription that requires credits. |
| Status | The status of the group (i.e. Active, Inactive). |
| Enrollments | An icon indicating whether the setting is enabled at the course or subscription level. |
| # Credits | The current number of credits that the group has for the course or subscription. |
---
Was this article helpful?
---
---
What's Next