Why Feedback Forms are Critical to Your Training Success
Why Feedback Forms are Critical to Your Training Success
---
Share feedback
Thanks for sharing your feedback!
As LMS administrators, we work hard to create the best possible experience for our learners. We make sure they have all the information they need, design beautiful courses, and ensure everything is easy to find and use. But many of us need to remember to ask our learners what they think. Gathering and analyzing feedback can help you better understand learner needs, improve your content, identify gaps, and make changes to enhance the learning experience.
Before we go any further, let's talk about two types of feedback: quantitative and qualitative.
Quantitative feedback is measurable such as a learner's grade, the time spent on each slide in a course, and the number of times they attempted each activity question. Most LMS systems, including SmarterU LMS, provide multiple quantitative metrics that you can use to evaluate your training.
Qualitative feedback is more open-ended such as learner comments, complaints, and suggestions. SmarterU forms allow you to collect qualitative feedback that you can use alongside your metrics. This provides a complete picture of your training and where it's working or, more importantly, where it is not working.
Learner feedback is an essential part of any successful training program. Keep reading to learn about five ways feedback can improve your training and how you can use SmarterU forms to gather this critical information.
Want to learn how to create your own SmarterU forms? We discuss releasing the final part of our forms feature and how you can set up custom forms in our blog post: Gain New Insights with SmarterU LMS Forms.
Want SmarterNews delivered to your inbox? Subscribe today!


Get Insight into Learner Perceptions
Feedback forms provide an effective way to gauge what learners think about your training. While your training content may cover everything it needs to meet industry standards, how is it being perceived? Do learners believe the training is going to help them on the job? Do they think it's boring? Do they feel it's confusing or hard to navigate?
These insights can help you understand what works and needs improvement to create a better learning experience. For example, suppose multiple learners provide feedback that a course is "long and boring." In response, you might want to add some interactive elements, split it into smaller courses, or offer opportunities for social learning.
Improve Course Content
One of the most common uses of learner feedback is improving your content. Content can take many forms, such as an online or instructor-led course, video, or supplemental resource. As the people engaging with your training and using it on the job, learners can provide valuable insights that no one else can. Without this feedback, you risk overlooking critical issues in your training, such as incorrect or outdated information and other insights you can't uncover from numerical metrics alone.
For example, the following SmarterU feedback form asks learners about their experience with an instructor — something that is hard to measure with numerical metrics. Based on learner feedback, the instructor can make improvements in future sessions.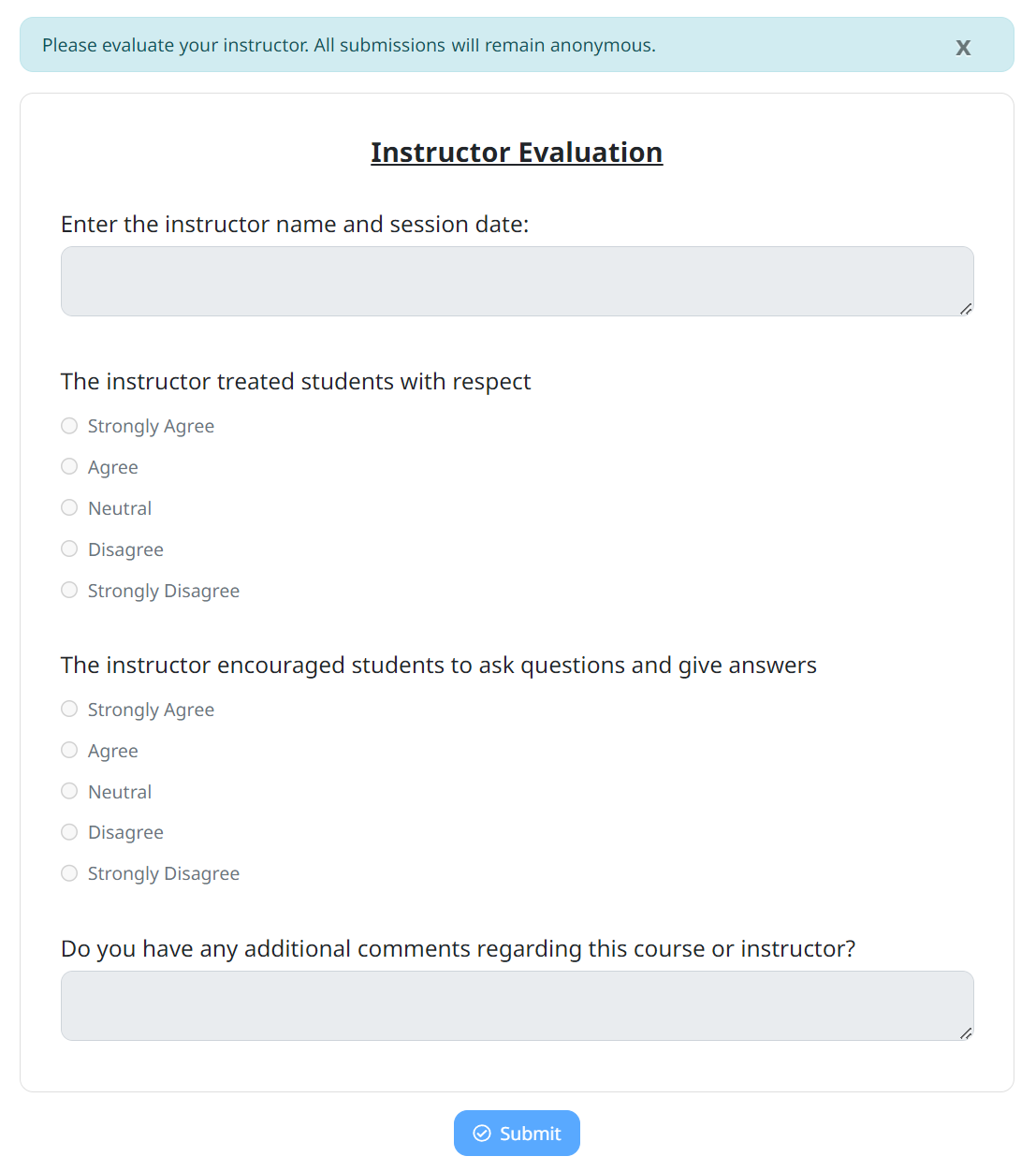 When learners share their thoughts and suggestions, they highlight where you can make the most impactful changes. If one learner says something is unclear, at least a few others think the same thing. Therefore, the sooner you identify areas for improvement, the more quickly you can address them and save other learners from having the same questions or confusion.
Feedback can also help guide your creation of new content so you don't continue making the same mistakes. For example, imagine multiple learners providing the same criticism: your content is too long and text-heavy. Using this information, you can refine your future content to be more engaging and concise. By understanding what learners like and dislike about your content and then evolving it based on this feedback, you can significantly improve the quality of your learning. This, in turn, has a positive impact on learning outcomes.
Identify Gaps
To improve your content further, you can also use learner feedback to better understand what learners need, expect, and want from your training. This can help shine a light on gaps in your content.
For example, the following SmarterU form asks learners what they thought about the content provided in a Product Knowledge course and if they need additional information.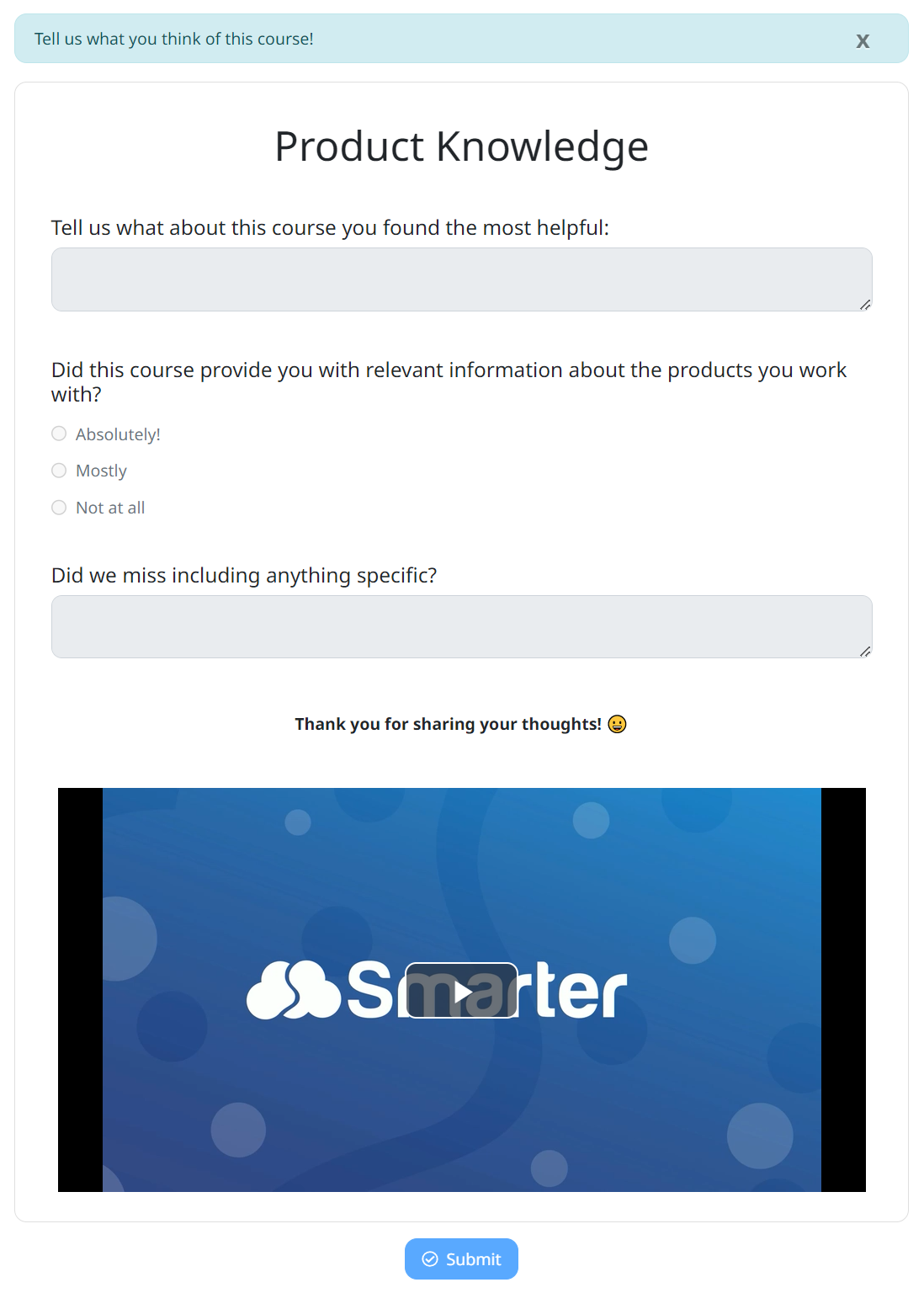 Collecting qualitative data from learners is the best way to collect self-reported information on content gaps. Combined with quantitative data — which highlights measurable knowledge gaps — you can use this feedback to get a complete picture of where to expand your content, create supplemental resources, or offer further training. You can then devote your limited time and resources to addressing these gaps. Common gaps include unclear instructions, missing information, and frequently asked questions that are not addressed.
Create a Culture of Continuous Improvement
Regularly collecting feedback fosters an organizational culture of continuous growth and improvement. Whenever you seek feedback from your learners, you demonstrate your dedication to creating and delivering valuable learning to THEM. You want to see them succeed and actively seek ways to improve.
While it's easy to collect feedback, you can only create a culture of improvement if you actually LISTEN to the comments and suggestions you receive — either by implementing changes or, at the very least, having an open dialogue. When learners feel like their voices are being heard, they are much more likely to continue sharing feedback in your LMS and other areas of your organization. This culture of improvement can build trust, foster collaboration, and encourage participation, which all contribute to a more positive learning experience.
With SmarterU forms, you can easily set a default form to appear after all your courses. While we recommend using context-specific forms — customized based on the subject matter or course type (i.e., online or instructor-led) — setting a default ensures that learners always have a way to provide feedback.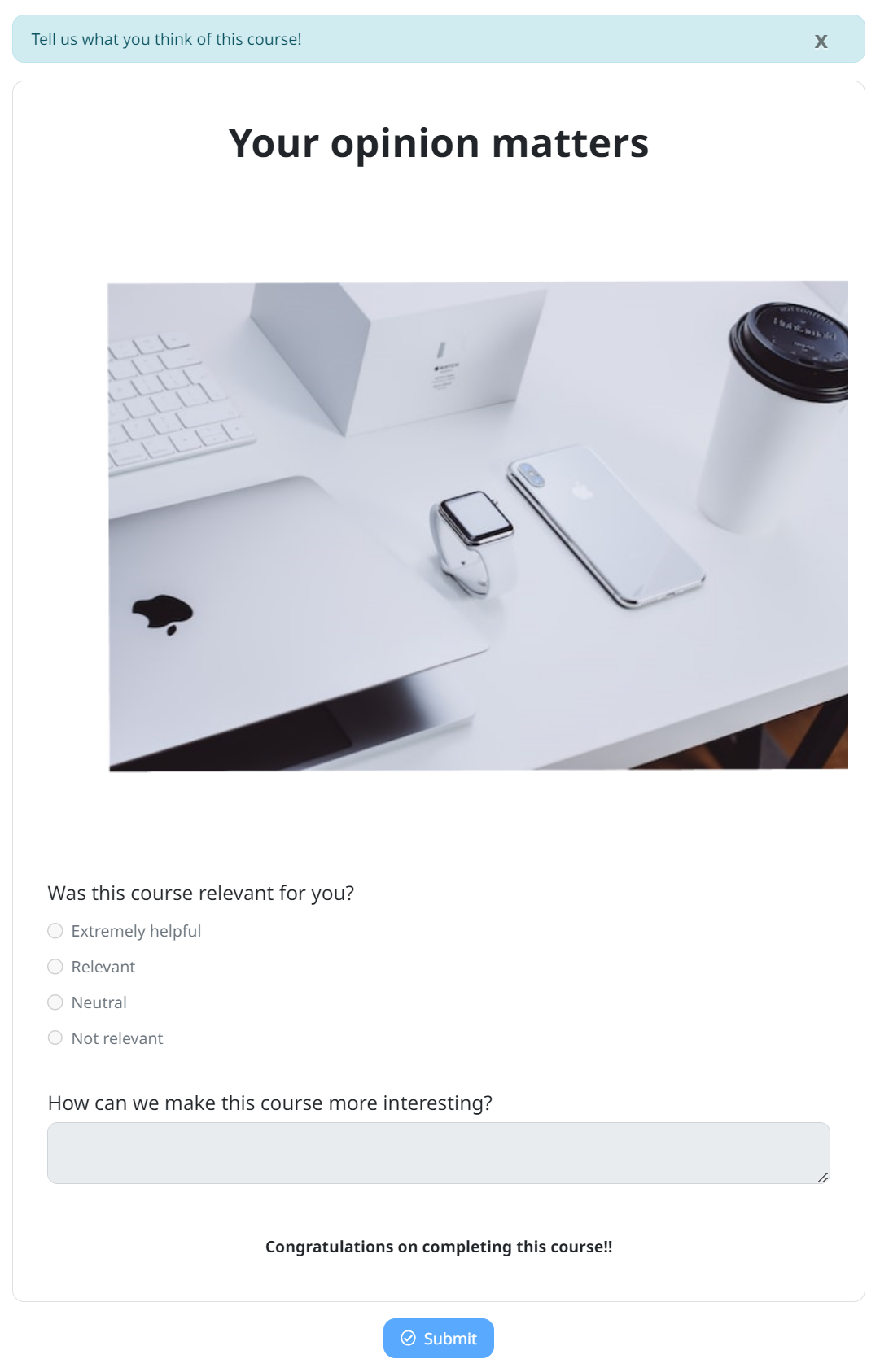 Enhance Engagement
In the previous sections, we discussed how forms could improve training content, close gaps, and create an open dialogue between learners and LMS administrators. When learners feel like you care about them, offer training to help them perform their jobs, and listen to their needs, they are much more likely to be engaged and motivated to learn further. When managing competing priorities, learners will dedicate time and effort to the areas they feel add value. It's essential to make sure that training is one of these areas.
While learners are more likely to engage with training that impacts them, they also tend to be more engaged when they feel like they impact the training. If you listen to learner feedback, apply it, and continue to evolve your content, learners know they are valued and heard. As a result, they feel more connected with you, the LMS, and their training, which boosts engagement.
You can also use feedback forms to ask about engagement more directly. For example, you may ask learners if the content held their attention, if they would recommend the course to others, or if they plan to take additional training. This information can provide valuable insights into why learners are — or are not — engaged.
In conclusion, feedback forms are a crucial element in the success of any LMS. Learners truly have an essential role to play in the development and evolution of their training. Using SmarterU forms, you can gather valuable insights from your learners that can't be captured through numerical metrics alone. This feedback highlights areas where you can improve your content, close gaps, or improve your training to promote engagement.
Continuously enhancing your training based on feedback results in better learning outcomes, higher learner satisfaction, and a more successful training program overall.
Ready to start collecting feedback? Get started today with SmarterU forms.
Questions? Contact us at success@neovation.com.
---
---