Share feedback
Thanks for sharing your feedback!
This feature is a special component of SmarterU that is not included with the basic system. Please contact our
Success Desk
to learn how you can upgrade your account to include it.
Check out our
Learning Plans Guide
to learn more about key learning plan concepts, and the steps for setting them up.
Learning plans provide a way to deliver a series of courses to your users. They can be used to track whether users meet compliancy standards that demonstrate the competencies required by their role or job function.
Each learning plan contains one or more certifications. Certifications are the competencies that a user must demonstrate as part of their job or position. If you decide to use learning plans, you'll need to consider if learners need to be recertified on a recurring basis.
For example, floor supervisors might be required to show competence in areas related to safety, machinery, and team management each year.

Within each certification are one or more requirements. Each requirement contains the criteria that the user must complete to earn their certification. These criteria can include courses that the user must complete, or actions that they need to take.
In our example, the Safety certification includes the Workplace Safety requirement. To satisfy this requirement, floor supervisors must complete the CPR and Accident Prevention courses annually. They must also submit proof of a vision and hearing exam each year.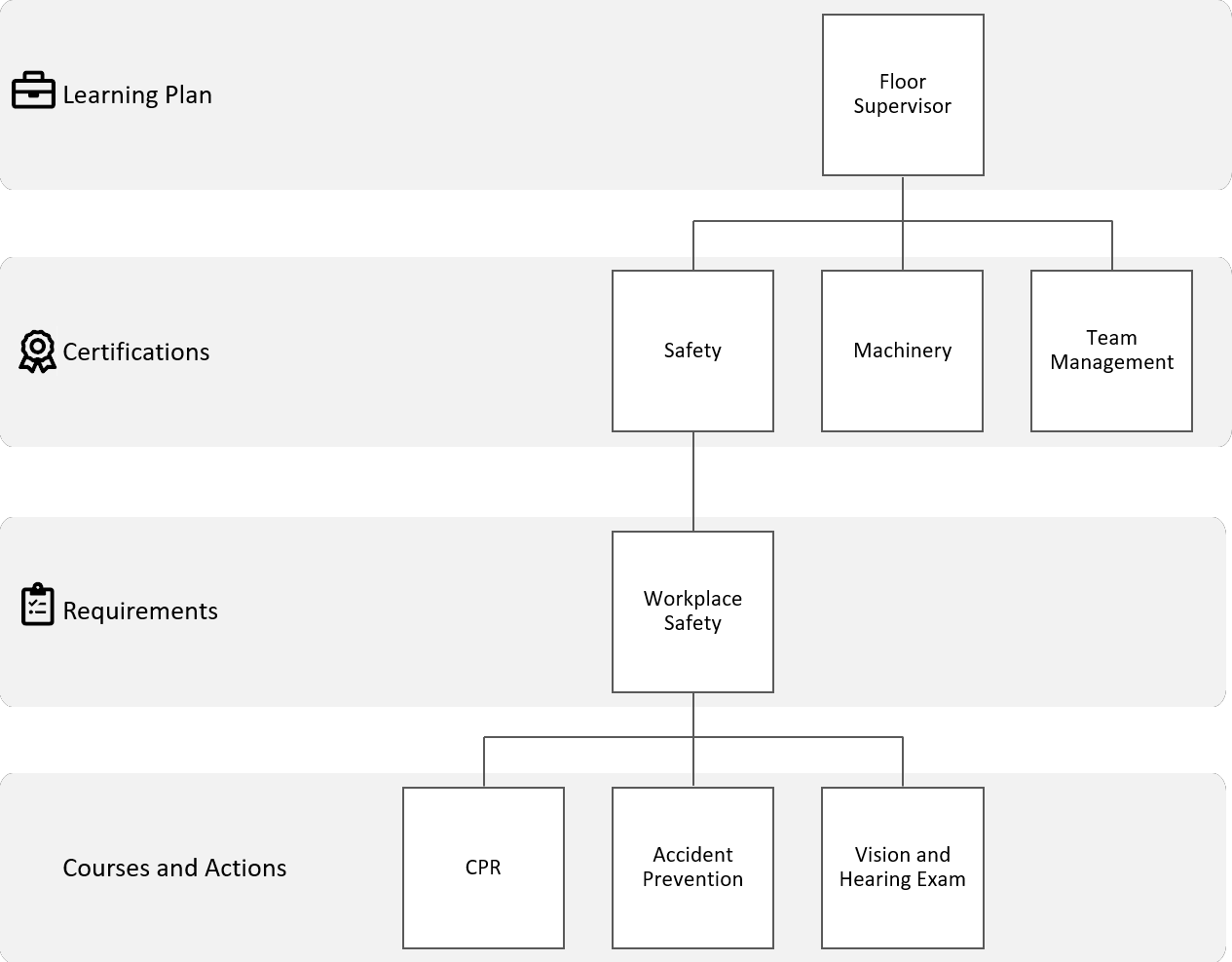 When a learning plan is assigned to a user, everything within the learning plan structure has a status that's based on whether the user has completed it. If a user fails to meet any parts of the learning plan, the status of the learning plan will be Not Met.
Basic Learning Plans
Basic learning plans make it easy to quickly assign courses and actions to users. For example, you may want new employees to complete certain courses and actions as part of your company's onboarding process.

When you add a basic learning plan, SmarterU automatically creates a certification and requirement of the same name. For example, if you create a basic learning plan named Fina Product Educator, a certification and requirement named Fina Product Educator are added in the background.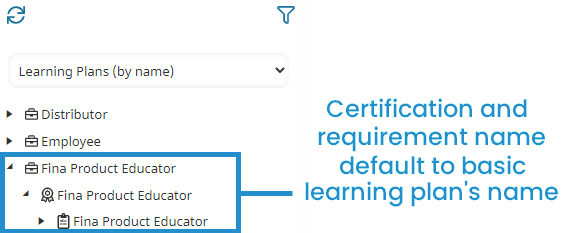 The courses and actions assigned to a basic learning plan will have the same expiration and met by default settings. If your needs change and you want to use some of the more advanced features, you can easily convert a basic learning plan to an advanced learning plan by editing the settings for the learning plan, its certifications, or requirements.
Comparison of Basic and Advanced Learning Plans
The grid below compares some of the more frequently used features to illustrate the difference between advanced and basic learning plans.
| | Advanced Learning Plans | Basic Learning Plans |
| --- | --- | --- |
| Learning plan can have multiple certifications and requirements | ✓ | X |
| Certification and requirement can have different names from the learning plan | ✓ | X |
| Certifications and requirements can have different mandate levels | ✓ | X |
| Requirement can have multiple blocks | ✓ | ✓ |
| Requirements can have different expiration dates | ✓ | X |
| Requirements can have different met by default settings | ✓ | X |
| Courses can have different automation enrollment and self enrollment settings | ✓ | ✓ |
---
---
What's Next