Share feedback
Thanks for sharing your feedback!
This feature is a special component of SmarterU that is not included with the basic system. Please contact our
Success Desk
to learn how you can upgrade your account to include it.
Learning plan automation is a SmarterU process that ensures that your users are automatically enrolled in training (courses & actions) required by their titles.
When learning plan automation is enabled, a SmarterU process is triggered whenever you assign a learning plan to a user. SmarterU analyzes the learning plan that you assigned to the user to determine what courses and actions the user must complete. SmarterU then enrolls the user in these courses. The Enrollment Automation Report email is sent to the email addresses specified in the account's Send Enrollment Automation Report To setting. If the learner's Enable Email Notifications setting is checked, the Course Enrollment email is sent to the user or the specified recipient.
Learning plan automation is different from group automation in that it bases the course enrollments on the learning plan(s) assigned to your learners instead of the groups to which the learner is assigned.
With learning plan automation you define a learning plan once. When you assign that learning plan to one or more learners, their training requirements will be calculated automatically. You no longer have to identify and manually enroll learners in the courses required for the learning plan every time you assign a learning plan to a learner. Learning plan automation is also beneficial when you need to track the status of certifications. After you define the certifications and requirements for your learning plans, SmarterU will track learners and report their certification status to you.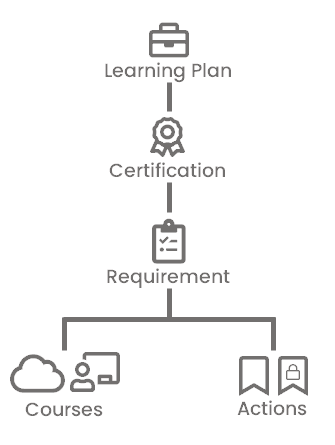 Automatically Enrolling Users in Their Learning Plan's Courses
There are several settings that need to be enabled in order to automate enrollments for courses that are part of a learning plan. First, the course's Enable Auto Enroll setting within the requirement must be checked.
To automate course enrollments for users who are assigned the learning plan, the account's Enable Learning Plans & Certification Enrollment Automation setting must be checked.
If users are not being assigned the courses in a learning plan, you should view the recommended enrollments for the learning plan. Attempting to enroll users in recommended courses for the learning plan will provide insight into why the user could not be enrolled.
---
Was this article helpful?
---
---
What's Next